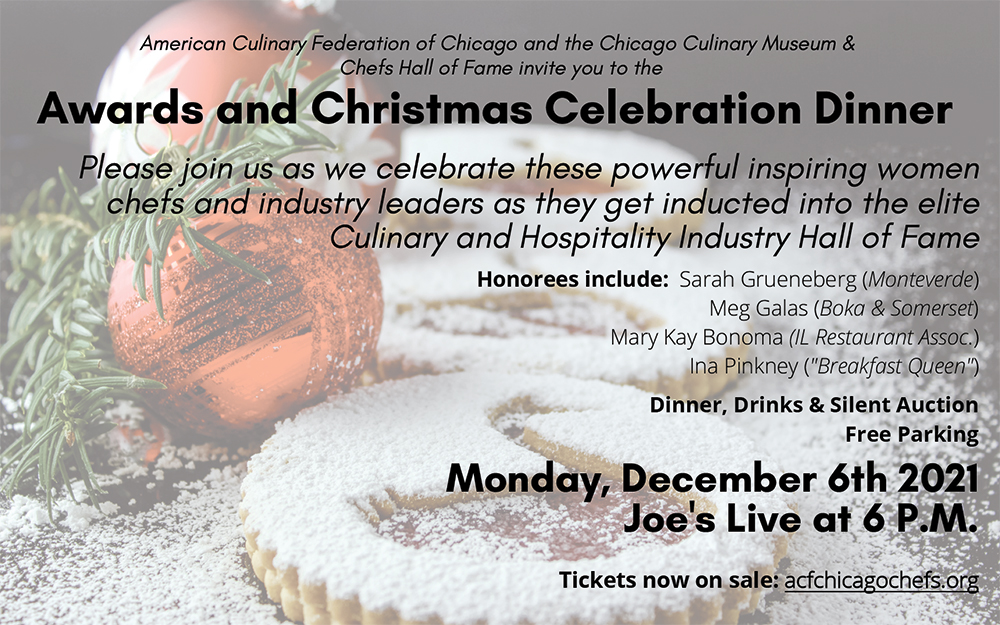 Monday, December 6th 2021
Joe's Live at 6 P.M.
Click here to buy tickets
We will be honoring Chef of the Year Sarah Grueneberg (Owner and Executive Chef – Monteverde Restaurant), Pastry Chef of the Year Meg Galus (Executive Pastry Chef – Boka Restaurant), Industry Leader Mary Kay Bonoma (Executive Vice President – Illinois Restaurant Association) and Legendary Chef Ina Pinkney (legendary restaurateur, book author, TV host) who have shaped our great Chicago culinary scene. We will have restaurants from all over the industry that have been waiting to let you sample their culinary creations. Please find time to join us, get out and finely dine as we honor these powerful and legendary chefs.
If you can't make it, please feel free to donate to our Culinary Scholarship Fund, as we help young up-and-coming chefs and industry leaders of the future here in the Chicago area.
Thanks and all the best,
Chef Kyle Richardson CCE, CCE, CHE, AAC President Chicago Culinary Museum and Chefs Hall of Fame
---
We are honoring the following 2021 Chefs Hall of Fame Inductees
---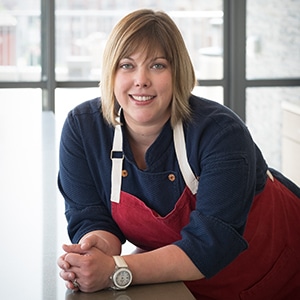 Sarah Grueneberg ~ Chef of the Year
Since her childhood cooking with her grandparents on their ranch in Victoria, Texas, Sarah Grueneberg knew she was destined to work in the culinary world. Originally from Houston, Grueneberg moved to Chicago in 2005 to join the team at the award-winning Spiaggia under the leadership of Tony Mantuano. Beginning as a line cook, she quickly rose the ranks to Chef di Cucina in 2008 and then Executive Chef in 2010. During her tenure as Executive Chef, Spiaggia was awarded one Michelin Star for three consecutive years.
After graduating from culinary school in 2001, she started her first career-changing job with a position at the iconic Brennan's of Houston and by 2003 was named the restaurant's youngest female sous chef. Grueneberg has traveled throughout Italy, Asia, Europe and the U.S., which has inspired her culinary approach of "following the food" and truly understanding "the dish" by knowing the people and culture that created it.
In 2017, Grueneberg received the James Beard Foundation Award for "Best Chef: Great Lakes" and also was named a semifinalist in the 2019 James Beard Awards for "Outstanding Chef." Grueneberg has been a competitor and finalist on Bravo's "Top Chef: Texas" and Food Network's "Iron Chef Gauntlet." She has also been named a "Rising Star Chef" by Chicago Social magazine in 2009 and 2016 and Eater Chicago's "Chef of the Year" in the 2011 Eater Awards. In April 2018, Grueneberg premiered the new WTTW – PBS Chicago show "Dishalicious," where she serves as host and invites three guest chefs, and friends, to create dinner party dishes in front of a live studio audience.
Grueneberg is currently Chef/Partner of Monteverde Restaurant & Pastificio in Chicago's West Loop, which she opened in November 2015 with business partner and long-time friend Meg Sahs. The restaurant has received acclaimed reviews from various outlets, including three out of four stars by The Chicago Tribune. In 2016, Monteverde received accolades including: one of Food & Wine's "America's Best Restaurants," a top 50 finalist in Bon Appetit's "Best New Restaurants" list, Eater's "21 Best New Restaurants in America," GQ's "12 Best New Restaurants," Eater Chicago's "Restaurant of the Year" in the 2016 Eater Awards, the "Worth the Wait" award in Chicago Tribune Dining Awards and named one of Chicago Magazine's "15 Best New Restaurants." In 2017, Monteverde was named one "America's 38 Essential Restaurants" by Eater and then awarded "Restaurant of the Year" in the 2018 Jean Banchet Awards.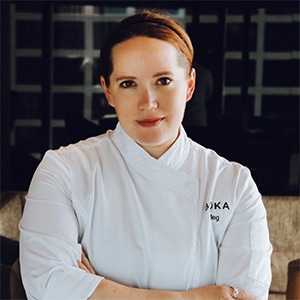 Meg Galus ~ Pastry Chef of the Year
Originally from DeKalb, IL, Meg Galus graduated from Illinois Wesleyan University with a bachelor's degree in Theater Arts. With an affinity for sweets and a passion for creativity, Meg decided to continue her education in the culinary arts, and graduated from the French Pastry School in Chicago in 2005.
Upon graduation, Meg quickly climbed the ranks at TRU, working her way up in five years to a pastry chef position, before being named the executive pastry chef at the Sofitel Chicago Water Tower in 2010, overseeing the hotels entire pastry program.
In 2011 she was named Executive Pastry Chef of the Park Hyatt Chicago and NoMI Kitchen, where she began to accrue accolades including StarChefs Rising Star award in 2011, Tasting Table's Top 10 Best Pastry Chefs in 2012, and four Jean Banchet nominations. In 2013, Meg took home top prize at the Chicago Restaurant Pastry Competition and in 2014, inspired by her love of all things chocolate, Meg executed a series of widely acclaimed pop-up chocolate and pastry boutiques at NoMI.
With a longtime admiration for Boka Restaurant Group, Meg was thrilled to have the opportunity to join the team as executive pastry chef at Boka Restaurant in February 2015. Meg also served as opening pastry chef for Momotaro, Swift and Sons, and Cold Storage. Today, Meg serves as the executive pastry chef for two restaurants within Boka Restaurant Group – Michelin-starred Boka and the group's new Gold Coast addition, Somerset.
Meg has been lauded for her creativity and versatility in this multi-faceted role and her work has garnered many more accolades, most recently as Chicago Tribune's 2016 "Pastry Chef of the Year," and being named as a finalist for the James Beard "Outstanding Pastry Chef" in 2016, 2018, and 2019 and semifinalist in 2017.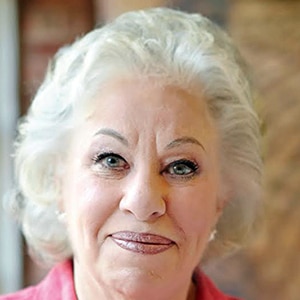 Ina Pinkney ~ Legendary Chef
INA PINKNEY was the Chef/Owner of INA'S, an American food restaurant, and a pioneer in the West Loop Market District, that closed at the end of 2013.
She is a frequent and welcomed guest on radio, local news and cable TV, has done interviews on shows in the U.S., Canada and Germany and appeared in a national Quaker Oats commercial as herself – the Breakfast Queen.
Articles about her have appeared in local, national and international newspapers and magazines, as well as trade and in-flight magazines. Her recipes have been syndicated globally and featured in many cookbooks.
Ina has been a guest lecturer on Entrepreneurship at Northwestern University, DePaul University and the University of Illinois, and has been the keynote speaker at food conferences and culinary school graduations. She also speaks about breakfast trends for food companies.
In 2014, Ina was awarded the Golden Whisk Award from the Women Chefs and Restaurateurs Organization for excellence in the kitchen, lead a coalition of Chicago Restaurateurs and Chefs to support Chicago's smoking ban and co-founded the Green Chicago Restaurant Coalition for restaurants in Chicago for which she received Chicago Magazine's 2011 Green Award.
She was named 2008 SBA Woman in Business Champion.
In 2013 she published INA'S KITCHEN: Memories and Recipes from the Breakfast Queen so that her stories and recipes would live in everyone's home.
Besides writing a monthly column for the Chicago Tribune called BREAKFAST WITH INA, a documentary about the closing of INA'S screened in 48 film festivals around the country, was on WTTW in Chicago and will go national in 2019.
Despite the awards and acclaim she has garnered in her career, the most significant title she holds is Polio Survivor. Ina now speaks to Rotary groups about the late effects of polio in her effort to help Rotary and the Gates Foundation achieve their goal of the global eradication of polio.
Ina Pinkney is a Chicago legend of the tastiest kind. Known as the "Breakfast Queen", she fed Chicagoans for 33 years – first, out of a small bakery and then from her beloved breakfast restaurant in the West Loop, which she closed in December of 2013.
An undeniably outstanding chef and astute businesswoman, Ina is so much more. She's a community leader, a pioneer, a television personality, a columnist at the Chicago Tribune, the subject of an award winning documentary called BREAKFAST AT INA'S, and author of a memoir cookbook called Ina's Kitchen.
But most importantly, she's the rare sort of person who's found a way to transform her passion into a joy that extended to an entire city, and beyond.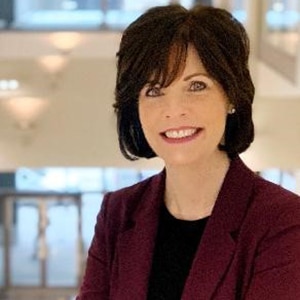 Mary Kay Bonoma ~ Industry Leader
As the Executive Vice President of the Illinois Restaurant Association (IRA), Mary Kay Bonoma directs the successful operations, strategic partnerships and special events of the organization. In 2008, her passion for food and Chicago's world renowned dining scene led her to co-found Chicago Gourmet. After more than a decade under Mary Kay's leadership, Chicago Gourmet has grown to become Chicago's premier food festival – a world-class celebration of food, wine, beer and spirits, annually filling Chicago's Millennium Park with thousands of food and wine enthusiasts.
Working alongside representatives of Choose Chicago and the team at the IRA, Mary Kay was instrumental in bringing the esteemed James Beard Awards to Chicago. Known as the Oscars of the culinary world, the James Beard Awards will call Chicago home until 2027. Mary Kay oversees the efforts of the local Host Committee, comprised of James Beard Award winning chefs and restauranteurs from Illinois. She also serves as the Director of the Restaurant and Beverage Operations for the Taste of Chicago, the world's largest food festival.
Mary Kay is devoted to the IRA's mission of promoting, protecting, educating and advocating on behalf of the restaurant industry, not only in Illinois, but around the world. She is a member of Délice, a global network of 27 world food destinations that promote culinary tourism and innovation. Mary Kay is a frequent speaker at Délice's annual international food industry events.
Prior to working at the IRA, Mary Kay served in government. She led the legislative staff of the Chicago City Council Committee on Transportation and Public Ways. Earlier in her career, she served as the Director of the Victim Witness Assistance Program for the Cook County State's Attorney's Office where she established the Homicide Victim Memorial Service, which is still held annually.
Mary Kay holds a MBA from Loyola University Chicago. She and her husband have raised four daughters in the Southside community of Beverly where she sleeps and eats, and eat, and eats…